Step1. Find/make an image.
make png image by youself
First, you'll need to decide what type of image you want to add to your stream: A logo, or a standalone image that occupies one part of the screen; or an overlay, a border or a frame that covers the entire screen and surrounds your video game, webcam, and other sources. Logos are a little easier to create from scratch, because you don't need to work within the constraints of whatever game you'll be playing. You can simply make an image using Adobe Photoshop or a free image editor like GIMP, without worrying about sizing or the game's interface. It's best to save your image in PNG format so any blank spots in the image will be transparent.
Or you can Download overlay template from below website
Own3D describes itself as providing better game streaming - everything you need to pursue your hobby and passion on Twitch or YouTube.
They have a large number of overlays for Twitch, YouTube, and Facebook. However, most of these are premium and come at a cost. You can quickly filter their overlays/templates by game or color.
Own3D.tv separates its graphics for streamers into:
Twitch Overlays Twitch Overlays – Webcam Twitch Overlays – Talking Screens Twitch Overlays – Master Bundle Twitch Starting – Pause- & End-Screens Twitch Panels Twitch Alert Sets Twitch Giveaway Banners Animated Twitch Overlays Animated Twitch Webcam Overlays Animated Twitch Alerts Animated Twitch Scene Transitions
Strexm provides free Twitch overlays. Most are customized for particular games, though there is also a range of generic overlays.
The Dark Matter overlay is one of Strexm's generic range. It features a red and black color scheme that doesn't take up too much of your precious window space. It utilizes a playful font, which although informal looking is simple to read. The top bar shows your latest followers, recent donations, and your social accounts.
Strexm overlays work out of the box and can be manipulated to your exact needs. They are fully dynamic, and you can change your stream's content at any time through Strexm's intuitive online editor. All of their overlays come built in with follower, subscriber, donation and host alerts.
Step2. Add the image to your scene
Once you've finished making your logo, overlay, or other image that you want to superimpose on your Twitch stream, open Open Broadcaster Software and select the scene you want to add the image to (learn how to create a scene here).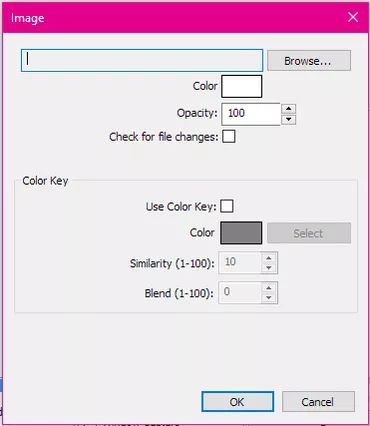 Click "Browse" and choose your image.
Sarah Jacobsson Purewal/CNET Right-click inside the Sources box and click Add > Image. Name your image source and then click Browse... to find the image you want to use on your computer. If you want the entire image to be semi-transparent, set the Opacity to a number lower than 100. When you're done tweaking the image settings, click OK.
Step 3: Move, reorder, and resize the image
Step 3: Move, reorder, and resize the image
Click Preview Stream to see what your stream currently looks like. You should see your image, as well as other sources that have been added to your stream.
I decided to add a photo of my dog. But it probably makes more sense to add a graphic that contains your Twitter username, or a cool-looking overlay.
There are two ways to move and resize your image. If you right-click the image name in the Sources box, you can change the Order (move the image above or below other sources on the screen) or tweak the Position/Size (fit the image to the screen, center, it, etc).
You can also manually resize and move your image by clicking Edit Scene. Select the image in the Sources box and you will be able to manually drag it around the screen and resize it by dragging the edges. If you resize your image incorrectly and you want to start over, right-click the image in the Sources box and go to Position/Size > Reset Size. To exit the editing feature, click Edit Scene again